In today's highly competitive business landscape, establishing a strong brand presence is essential for success. While there are various marketing strategies available, one often overlooked but highly effective method is commercial truck wraps. These eye-catching designs, featuring vibrant graphics and effective messaging, have the power to significantly enhance brand visibility and attract potential customers. Let's delve into the importance of commercial truck wraps and explore the numerous benefits they offer.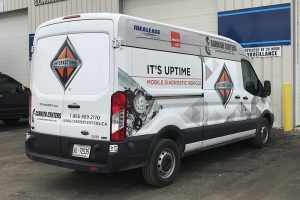 Unmatched Brand Visibility: Commercial truck wraps transform ordinary vehicles into moving billboards, ensuring your brand receives widespread exposure. With an estimated tens of thousands of impressions per day, these mobile advertisements create a lasting impression on viewers from all walks of life. Whether on highways, city streets, or parked near busy areas, your brand will catch the attention of a diverse audience. This increased visibility can lead to greater brand recognition and recall when potential customers require your products or services.
Cost-Effective Marketing: Compared to traditional advertising channels such as billboards or television commercials, commercial truck wraps provide excellent value for money. Once the wrap is installed, it continues to promote your brand 24/7 without any additional expenses. With a one-time investment, your company gains long-term advertising benefits, making truck wraps a highly cost-effective marketing solution.
Mobile Advertising at its Finest: One of the greatest advantages of commercial truck wraps is the ability to reach audiences in various locations. Your brand message can travel far and wide, reaching potential customers who may have otherwise been unaware of your business. From rural areas to densely populated urban centers, your wrapped trucks act as mobile ambassadors, allowing your brand to penetrate new markets and expand its reach.
Eye-Catching Designs: To maximize the impact of your commercial truck wraps, captivating designs are crucial. By partnering with talented graphic designers, you can create visually stunning wraps that captivate the attention of onlookers. Vibrant colors, striking imagery, and creative layouts are key components that make your trucks stand out from the crowd. A well-executed design ensures that your brand remains memorable long after the truck has passed by, generating curiosity and potential business opportunities.
Effective Messaging: While aesthetics are important, the messaging on your truck wrap is equally vital. Cleverly crafted taglines, compelling calls-to-action, and key contact information play a pivotal role in conveying your brand's value proposition. By clearly articulating what your business offers and how it can benefit potential customers, you create opportunities for engagement and conversions. An effective message combined with an attractive design makes your commercial truck wrap a powerful marketing tool.
Versatility and Customization: Commercial truck wraps offer immense flexibility in terms of design and customization. Whether you have a single truck or an entire fleet, wraps can be tailored to suit your brand's unique requirements. From small logos and contact information to full-body wraps, the possibilities are virtually limitless. This versatility allows you to effectively communicate your brand's identity and establish a consistent visual presence across your fleet.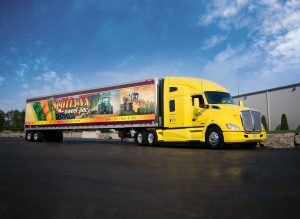 In the age of information overload, commercial truck wraps provide a refreshing and effective way to boost brand visibility and attract potential customers. By leveraging eye-catching designs and effective messaging, businesses can transform their vehicles into mobile billboards that generate countless impressions every day. With their cost-effectiveness, versatility, and unmatched reach, truck wraps have become an indispensable marketing tool for companies looking to stand out from the competition. Embrace the power of commercial truck wraps and elevate your brand's visibility on the road to success.
Don't miss out on the incredible marketing potential of commercial truck wraps. Take action today and partner with Advantage Vinyl to transform your fleet into mobile advertising powerhouses. With our expertise, customization options, and commitment to delivering exceptional results, we will help you create eye-catching designs and effective messaging that boost your brand visibility on the road. Contact us now to discuss your truck wrap needs and let us drive your brand towards greater success.